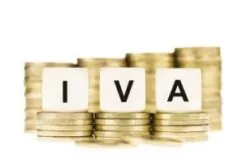 An IVA reduces your debt payments to an affordable amount. It usually lasts 5-6 years after which any unpaid debt is written off.
Jump to article content:
Want help to start an IVA?
Give us a call: 0800 011 4712 or complete the form below to speak to one of our experts
What happens to your Debts in an IVA?
An IVA gives you legal protection from the creditors you include in the Arrangement. Once it starts they are no longer allowed to take further action against you to collect their debts.
All current collection actions must stop including the use of debt collectors and bailiffs. In addition if a CCJ or Attachment of Earnings has already been issued against you it will be overturned.
Once the Arrangement is in place no further interest or charges can be added to your outstanding balances. The creditors agree to accept the amount offered to them and cannot add more.
At the end of your IVA, any part of the debts included in the Arrangement which remain outstanding are written off.
Struggling to get your head round all of this? We can help. Call us (0800 011 4712) or complete the form at the bottom of this page. The advice is free and confidential.
How long does an IVA last?
A standard monthly payment IVA will normally last between 5 and 6 years. During this time your debt payments are reduced to a single affordable monthly amount.
The length of the Arrangement can change once it has started. If you have a payment break the payments you miss must be added to the end. In these circumstances the length would increase.
It is also possible to settle the agreement early. This can be achieved by paying a cash lump sum into the IVA instead of the remaining monthly payments. However the lump sum must come from a third party.
If you cannot afford to make monthly payments towards your debts you may still be able to start an IVA by paying a one off cash lump sum. This is known as a Full and Final IVA.
The Amount of Debt Written Off by an IVA
One of the advantages of an IVA is that any debt included in the Arrangement that remains outstanding at the end is written off. This means you will be free of your unsecured debt once it is finished.
It is important to understand that there is no standard amount of debt written off. The amount changes from person to person. It depends entirely on how much you are able to pay into the Arrangement.
Only unsecured debts specifically listed in the agreement are written off. Secured debts such as a mortgage cannot be included. You have to continue paying these.
The fact that debt is written off is a considerable advantage of an IVA. However there are also a number of downsides to be aware of. These include the negative affect on your credit rating.
How to start an IVA
You cannot start an IVA yourself. The agreement must be be implemented and managed by an Insolvency Practitioner (commonly referred to as an IP).
The IP first negotiates the Arrangement with your creditors. Once it is in place they collect your monthly payment, make the distributions to your creditors and carry out ongoing reviews of your circumstances.
Every IP charges similar fees. These include a Nominee fee for implementing the Arrangement and Supervisory fees for its ongoing management.
Thinking about an IVA? Give us a call (0800 011 4712) or complete the form below and we can advice if it is right for you.
Government Advice about Dealing with Debt
As well as the information found on this website the Government's Insolvency Service has produced a useful guide to personal debt solutions which you might also find useful: "Options for paying off your debts".
Money Helper (provided by the Money & Pensions Service) is an independent service set up by the Government to provide people with free advice about all aspects of personal finances. For further information, please follow this link: Help if you are struggling with debt.
It is also recommended that you read this one page document produced by the Money & Pensions Service entitled "Dealing with debt – 5 things you should know".