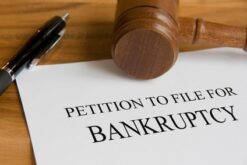 Bankruptcy can be a daunting prospect. But it doesn't need to be. You can get all the help and support you need with the entire process with our hand holding service.
The service includes completing your application forms and assisting with your subsequent interview with the Official Receiver. In addition we continue to provide you advice during the period of your Bankruptcy answering any questions that may come up and helping you with any ongoing requests for information from Official Receiver's office.
Need more advice about going bankrupt? Give us a call (0800 011 4712) or complete the form below. The advice is free and confidential.