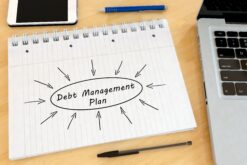 You are allowed to stop your IVA and start a debt management plan if you wish. This might be a sensible option for a number of reasons. However, you also need to understand the potential implications.
Included in this article:
Already in an IVA and need help?
Give us a call: 0800 011 4712 or complete the form below to speak to one of our experts
Are you allowed to stop your IVA and start a DMP?
You are allowed to stop your IVA part way through if you wish. You can legally cancel at any time and then start a debt management plan (DMP) if this is a better option for you.
The way you cancel your IVA is first, stop making the payments. Then tell your IVA company that you want them to terminate. They may try to convince you to stick with your Arrangement, but if your mind is made up, they can't stop you.
Before you can start a debt management plan, until your IVA is formally terminated. This could take 6-9 months.
While you are waiting, you can save the money you would otherwise have paid in. Your creditors won't try to collect their debt from you because as far as they are concerned, you are still in your IVA
Struggling to get your head round all of this? We can help. Call us (0800 011 4712) or complete the form at the bottom of this page. The advice is free and confidential.
When is a DMP better than an IVA?
There are two main reason why you might stop your IVA and use a debt management plan to pay of your remaining debt.
The first is where you will pay more back than you originally owed if you stay in your IVA. You might find yourself in this position after your payments have gone up.
Generally speaking, remaining in your Arrangement in these circumstances does not make a lot of sense.
The second reason you might cancel is where you know you are going to will get a windfall. This might be something like an inheritance or redundancy payment which you prefer not to pay into your IVA.
If you are in an IVA, any windfall money you get has to be paid into the Arrangement. When this happens, it is not paid off any faster, your creditors just get back a higher percentage of the debt they are owed.
If you stop the Arrangement and use a debt management plan instead, you will have greater flexibility. You can keep the windfall and decide what to do with the money.
Should you stop your IVA go bankrupt instead?
What can you do if you want to stop your IVA, but your will still have a considerable amount of debt to pay off? This might take a long time using a debt management plan?
If you are facing this problem, you should also consider the option of going bankrupt.
If you go bankrupt, you might not have to make any further payments towards your debts at all. This might be the case where your income is relatively low or just made up of benefits.
Where you can afford to make a monthly payment, you will have to do so. However, the payments will only last a maximum of 3 years. This might be far less time than a lengthy debt management plan.
That said, bankruptcy is not suitable for everyone.
You are unlikely to be able to use this solution if you are a home owner because your property might be at risk. In addition, you would not be able to keep any windfalls you receive while you are bankrupt. In these circumstances, the debt management plan option is likely to be best.
Make sure you understand all the implications before your stop your IVA. Speak to us first. Call 0800 011 4712 or complete the form at the bottom of this page.