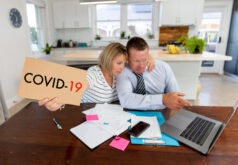 You may have suspended your IVA due to the coronavirus pandemic. But what if your payment break has finished and you still can't afford the payments?
Included in this article:
Already in an IVA and need help?
Give us a call: 0800 011 4712 or complete the form below to speak to one of our experts
Is it possible to extend your payment break after it has finished?
Most IVA agreements allow a payment break of up to 9 months during the arrangement. However, if your income has been affected by coronavirus, you may be able to get an additional break of up to 6 more months.
So if you are coming to the end of a break and your income has still not recovered, speak you your IVA company and ask for it to be extended.
Where your agreement is based on the standard protocol, your company should allow you this extension without much difficulty. They do not have to ask your creditor's permission.
A variation meeting may have to be held to get the creditors agreement for a payment break to be extended for non protocol IVAs.
Could you reduce the payment amount?
You may be back at work after being furloughed but your income has reduced. Perhaps your employer has cut your hours or the overtime you used to rely on is no longer available.
In these circumstances, you should speak to your IVA company about restarting your payments at a reduced rate.
They may be able to reduce your payments by up to to 50% for 6 months. Where your income is unlikely to get any better, They could look at the option of agreeing a permanent payment reduction with your creditors.
If your payments are reduced, it is likely that the length of your IVA will have to be increased to compensate your creditors. It is normal for 12 extra months of payments to be added in these circumstances.
If you can't pay, can you stop your IVA?
What happens if you are simply unable to restart your IVA payments at the end of your payment break?
After the furlough scheme, your employer may have made you redundant and your job prospects look bleak. Alternatively you may be working but on a significantly reduced income. As a result you have no spare cash to make further payments.
In these circumstances it is possible to stop your IVA altogether. You can do this at any time. However if you do, it is likely that a significant amount of your original debt will still be outstanding. Therefore it is very important to think about a plan for how to deal with this going forward.
Your options for managing your debt if you cancel your IVA will depend on your financial circumstances. You will probably have to consider either a debt management plan or bankruptcy. The latter is normally a sensible option if you live in rented property.
Struggling with your IVA after your payment break has finished? Call us for free impartial advice (0800 011 4712) or complete the form below.