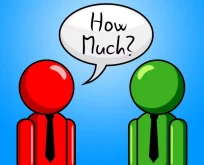 Your IVA payment will always be based on what you can reasonably afford. That said, there is usually a minimum payment of at least £100 a month.
Included in this article:
Want help to start an IVA?
Give us a call: 0800 011 4712 or complete the form below to speak to one of our experts
What is the minimum acceptable payment for an IVA?
The minimum payment for an IVA has fallen in the last few years. If you present an IVA today, you could offer a payment of as little as £100 a month towards your debts.
Creditors might accept an amount which is lower than this if they know you will increase your payment later on. For example, if you have a car finance deal which finishes in 2 years, you will be expected to add the money which is then freed up to your ongoing IVA payment. 
Some IVA companies may agree to start an IVA for as little as £75-£80/mth. However, be very wary of this. They will almost certainly be constantly looking for ways to increase your payment and you should expect it to go up during the agreement.
Some IVA companies will let you start an IVA for as little as £75/mth. However you should expect your payment to increase.
How much will your monthly IVA payments be?
It is really important to understand that your payment will not necessarily be £100/mth. It will be based on the amount you can afford. Some people pay a larger payment each month because it is affordable for them. Others pay less.
The bottom line is your creditors will expect you to pay as much as you can (all of your surplus income) each month. If they suspect you are holding some back, they may refuse your application.
Your priority should be that you can afford all of your normal living expenses. This will prevent you getting into further debt. Your monthly payment is calculated by subtracting all your living expenses from your total income. This is called your Disposable Income (DI).
Calculating your DI correctly is really important as it forms the basis of your IVA payment. You have to give all your DI to your IVA each month. Get the DI calculation wrong and you might not be able to afford your payments and your IVA could fail.
It is entirely possible for two people with the same amount of debt to be paying different amounts into their IVAs. 
Will your payment change during the Arrangement?
In the spirit of paying as much as you can afford, you need to understand your IVA payments are not fixed. Creditors will expect you to pay more if you can afford more.
This usually arises when your income increases or you get overtime and bonuses. This is usually reviewed each year at your annual review when your budget is checked by your IVA supervisor. However, if you know you have an increase or extra money, do not wait for the review.
Always check with your IP whether you need to save extra money during the year. If you have not paid the extra amounts during the year you will be expected to at the annual review. Where you have not saved the money you risk your creditors failing your IVA.
If your income falls or your living expenses increase, it is technically possible to reduce the amount you pay into your IVA. However, if your payment is already no higher than the minimum £100/mth, your IVA company may not be able to reduce this any further. 
Need more advice about what you will have to pay into an IVA. Call us (0800 011 4712) or complete the form below. The advice is free and confidential.