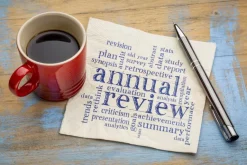 An insolvency practitioner has to complete an Annual Review of your IVA. What happens and what information will you have to provide?
Jump to article contents:
Already in an IVA and need help?
Give us a call: 0800 011 4712 or complete the form below to speak to one of our experts
Why do you need an Annual Review?
Your insolvency practitioner (IP) has a duty to review your financial circumstances every year you remain in your IVA. They need to check to see if your income has increased or any of your living expenses have fallen. This is known as the annual review.
If your circumstances have improved then your ongoing payments could rise. However this will only ever happen if your disposable income has increased.
The review will look again at your income and expenses budget. As such it will also take into account any legitimate increases to your living expenses as well as increases in income. For example increased travel costs as a result of a pay rise. You will not be asked to change your payments if overall your financial situation has remained the same.
You will have to carry out a final review of your circumstances after you make your last IVA payment. If you have earned more in the previous 12 months you might have to pay extra before your completion certificate can be issued.
What do you have to do for the Annual Review?
Like at the start of the IVA, at each annual review you will have to provide documents supporting your income and expenses. Usually these will include payslips and bank statements. Some IVA companies will only ask for the last 3 months. However others will require the full 12 months.
If you are self employed you will normally have to provide a schedule confirming your business revenue and expenses during the last 12 months. This may also have to be backed up with bank statements.
If you feel any of your living expenses have increased you will need to provide evidence of this. For example if your child care costs have risen you need to provide receipts for the extra bills.
If your income or expenses change, don't wait for your annual review to tell your IVA company. If you wait and your payments need to increase you will get into arrears and might face a bill at the end of the year.
What if your living expenses have changed?
Just because you are earning more does not mean your IVA payment will automatically increase. Often a change in income will come with associated increases in your living expenses. As a result your disposable income may remain the same.
You may have got a new job which pays more but now have to travel further. As a result your transport expenditure will increase. If you have just started work but now have to pay for child care this expenditure will normally be significant. You must remember to increase these expenses in the new income and expenditure budget you submit to your IP.
For this reason your Annual Review is a good way of making sure your budget reflects what is really going on. If you do it properly you will still be in a position where you can afford any changes to your payments.
Only specific expenditure increases can be considered at your annual review. Your IVA company will not usually allow increases because the cost of living has "risen in general".
My IVA has become unaffordable, what now?
If your income has fallen or specific expenditures increased you may no longer be able to afford your IVA payment. Perhaps the overtime you were used to has been cancelled or your mortgage payments have gone up.
In these circumstances it may be possible to reduce what you are paying into your Arrangement. Small reductions in your monthly IVA payment are possible without asking the creditors. Your IP can authorise up to a 15% reduction in your monthly payment. Anything more than this would have to be requested by applying to the creditors for a 'variation'.
It is not always possible to reduce your IVA payments. The amount you can afford to pay still has to be sufficient to sustain a sensible repayment to your creditors. If you cannot do this there may be no alternative than to let your IVA fail and consider an alternative solution.
Where your IVA payments are reduced you will have to compensate your creditors. Normally the Agreement will be extended for an extra 12 months (although this could be longer).