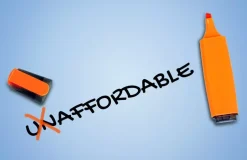 You might be able to reduce your IVA payments if they are unaffordable. However it is only possible in certain circumstances.
Jump to article content:
Already in an IVA and need help?
Give us a call: 0800 011 4712 or complete the form below to speak to one of our experts
Can you Reduce your IVA payments?
An IVA usually involves making a payment every month based on an amount you can afford. However if the agreed figure becomes unaffordable you might be able to reduce it.
You cannot just reduce the payments yourself. The change must be agreed with your IVA Company. You will first need to discuss the problem with them and explain why you are struggling.
You will normally have to submit a new income and expenses budget showing how your disposable income has changed. You may also have to submit wage slips or expenditure receipts to prove the new figures.
Your Insolvency Practitioner (IP) can agree a payment reduction of up to 15% without referring back to your creditors. If a greater reduction is required they will have to request a formal variation.
In what circumstances is reducing your IVA Payments allowed?
A request to reduce your payments will be considered if there has been an identifiable change in your circumstances. In otherwords there must be a definable change to either your income or living expenses.
A reduction might be agreed if your income has fallen due to a change in job or loss of guaranteed overtime. Alternatively specific expenses may have increased such as mortgage payments after an interest rate increase.
You will not normally be allowed to reduce your payments because of general increases in the cost of living. In these circumstances you will have to manage by simply cutting back on your expenditures.
If your IVA payments are already low (£80 a month or less) it may not be possible to reduce them even after a fall in income as the Arrangement would no longer be sustainable.
The Implications of reducing your IVA Payments
Your IVA Company can agree to reduce your payments by less than 10% without getting permission from your creditors. If this happens there are usually no other implications for the Arrangement.
However where a reduction of more than 10% is required your IP must propose a formal variation to your creditors. The acceptance criteria are the same as the original IVA. 75% or more of the creditors who vote on the variation must say yes.
To gain the acceptance of your creditors you will normally have to offer to extend your IVA. As a result the Arrangement will be extended for a further 12 months at the reduced rate.
If a proposed variation to reduce your payments is not agreed they have to stay the same. In these circumstances you may need to consider alternative options.
What if your IVA Payments cannot be Reduced?
You may find yourself in a situation where you are unable to afford your payments but your IVA Compny says they cannot be reduced. In these circumstances you have two options.
The first is to accept the situation. Make make cuts to your living expenses where you can so the payment becomes more affrodable. If it is possible this is often a sensible thing to do.
If you feel you simply cannot continue with the payments the only other option is to allow your Arrangement to fail. You will then have to deal with your debt problem is a different way.
Allowing your IVA to fail is a serious step to take. Do not do this before getting further advice from one of our experts.