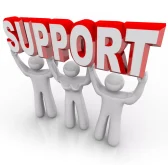 Are you already in an IVA? Find out what happens as you go through the Arrangement and your options when it is completed.
Already in an IVA and need help?
Give us a call: 0800 011 4712 or complete the form below to speak to one of our experts
The Annual Review of your finances
Once your IVA is in place you must start making the agreed payments. It is also important to understand that you will have ongoing contact with your IVA company.
Every year on the anniversary of the start date they will carry out an annual review of your circumstances. Normally just before this date you will be contacted and asked to submit an updated income and expenditure budget.
You will also be required to provide new paperwork. You will usually have to send in your last three months bank statements and wages slips. However some IVA companies will ask you to provide the last 12.
If your income and living expenses have not changed you still have to submit a new budget and supporting paperwork to your IVA company.
What if your Circumstances Change during the IVA?
If you are in a monthly payment IVA it is likely to last a number of years. During this time you may face changes to your financial circumstances either for the better or worse.
If things improve you may have to increase your monthly payments. If your ability to pay reduces you might be allowed to lower them or take a payment break if the situation is only temporary.
If you incur a new debt during your IVA it might be possible to add it to the Arrangement. However you will normally have to accept an extension of your payments.
If your circumstances change during your IVA you should inform your IVA company straight away. Do not wait until your Annual Review.
When does an IVA finish?
Your IVA will not finish until you have met all your obligations within the agreement. This will normally mean paying each month for 5 or 6 years.
If you are already in an IVA it may be possible to settle it early. This can be achieved by offering a cash lump sum in exchange for not having to make further monthly payments.
The lump sum generally has to come from a third party. However if you are a home owner it may be possible to release equity from your property for this purpose.
Once you have made your final payment the Arrangement does not finish immediately. It is only finally completed when you have received your completion certificate.
Options after your IVA is Completed
Once your IVA is completed you can start repairing your credit rating. The record will come off your credit file automatically after 6 years. However there are things you can do to begin the repair process before that date.
If you wish you can also start to think about getting a mortgage. There are various lenders who will now consider you. The amount you can borrow will largely depend on how long it is since your Arrangement started.
The longer you are able to wait the smaller deposit you will require. Generally speaking 3-6 years from the start date you will require a 25% deposit. This can fall to as little as 5% after 6 years.
If you are interested in getting a mortgage after your IVA you will need to use a specialist broker. Please speak to us and we can put you in touch with one who is able to help.